In the tubie world there are all sorts of backpacks so you can be on the move with a tube feed. We have tried a few of them, OK, quite a few of them, and none have really fit the bill. We tried the packs made specifically for tube feedings such as the Kangaroo Joey backpack line.
Out of all the packs made specifically for feeding tubes, it was my favorite. We use an MOOG Infinity pump, but it works very well in this line of packs.
We also tried so many traditional backpacks tweaking them where needed. Most of the time this meant cutting a hole for the tubing that connects to his extension to exit the bag. Eh, they were alright. Nothing to write home about.
Then, one day, we were at Academy picking up a few things when we walked past the hiking area. They had hydration packs galore and it hit me. This was the perfect backpack for tube feeding. There are a lot of choices out there. But most are the same concept. There's a hydration bag inside (a big feeding tube bag looking thing) that hangs and has a long hose attached that goes out a pre-cut hole, usually it then goes down the pack strap, and comes out so you can drink when you want to. I looked at my options and we chose one by BCG.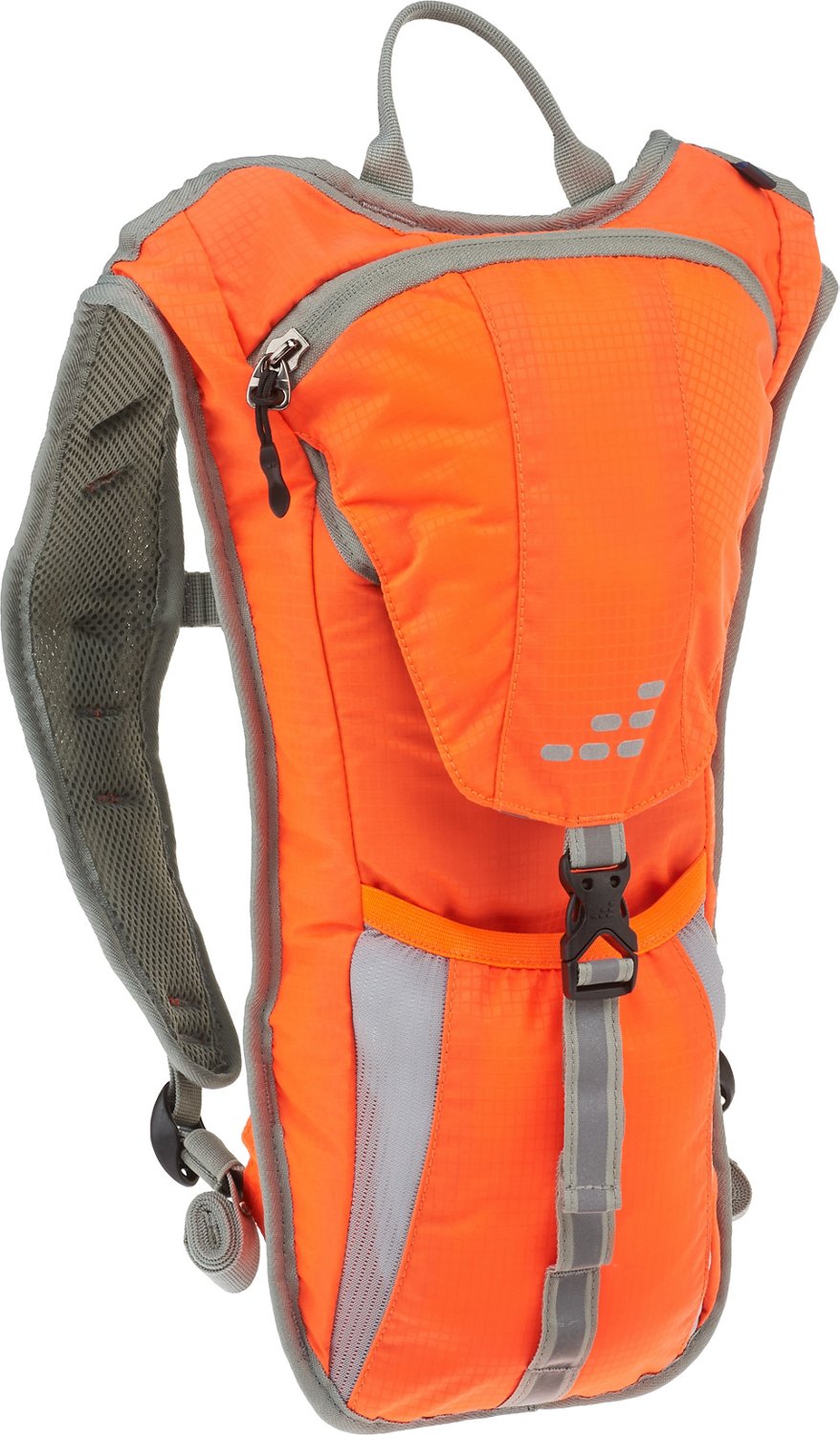 I wish I had a big long reason to give you that sounds like I really did my research and had a broad knowledge base on hydration packs. Honestly, it was the least expensive. At $19.99, it was far less than the next lowest priced bag which was a CamelBack at $49.99. I know CamelBak is a much higher quality bag, and I am sure it's worth the price. But this is a very well constructed bag and it's for a kid who isn't out running marathons, hiking for miles at a time, or riding a bike in long distance races. Not to mention, it came in a few cool colors.
Our son chose the orange one you see above. He's a sucker for a bright color.
Inside you will see a tab that has Velcro closure that holds the inner hydration bag. I simply took out the bag and hang our unit there instead. Boom, that's it. The pump fits perfectly in the bottom under the bag as that main pocket is the entire length of the backpack. My hand slips in easily so I can push the run, prime, power, whatever button.
I have it cinched up to the smallest size for my son who weighs about 65lbs. The handle at the top serves to let me hang it off of an IV pole, a hook in our SUV, or anywhere else I need it to hang. There are two pockets on it (one zip and one open) so I can store small things like rolls of tape, tubing caps, extra tubie pads, etc.
My favorite parts of this pack are:
it's very slim, hugs the body, and isn't bulky. It's the nicest one we have used so far.
since it's a hydration pack, there is an opening in the top for tubing to go out and down the straps. This puts the pump tubing in the EXACT spot it needs to be to hook to the extension.
I think we have finally settled on a set up for when he's on the move. We use it in the house so he can get up and go where he wants and when we are out and about and he needs a feed.