I was given the opportunity to check out the Yearly Membership at SchoolHouseTeachers.com . (this post contains affiliate links)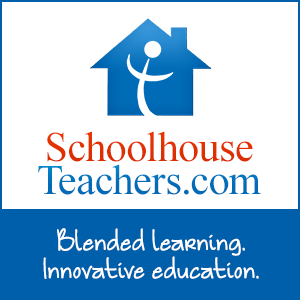 First, let's start with what SchoolHouseTeachers.com says about their site. They are part of The Old Schoolhouse Magazine. They have over 150 classes PK-12 and classes for parents, as well. Their classes have different levels of difficulty which allows them to fit for many ability ranges. They even help with advice on what a course will count when adding it to a transcript.
OK, sounds good to me. I was excited to check it out. First, a bit about why I wanted to look at this resource. Most of you don't know that we live in a very tiny town (we are talking 200 people here folks). We live at least 30 minutes from a town of any size, and that town doesn't have anything in the form of enrichment courses. For that opportunity we need to drive over and hour and spend a lot of money per semester to have limited choices for a few classes. Sounds appealing, right?
Add in that I drive a serious gas guzzler due to having to cart around a wheelchair and other medical supplies and it can get very expensive to do much in the way of classes.
Enter
SchoolHouseTeachers.com Yearly Membership
.
Here's what I found:
I found a website that is incredibly full of options. In fact, you might be intimidated by the thought of courses ranging from art, bible, and foreign languages to music, math, and language arts. But don't jump ship yet. It's the furthest thing from scary. In fact, it's very easy to navigate as you can look for a class by subject or by grade. This also enables you to have a very custom approach to teaching since you might have a child on various levels in their ability. You don't get pigeonholed into one grade level. Have an early reader, choose from the 3rd grade language section while staying in 1st for math where they are grade level.
Another awesome resource is the "Just For Parents or the Whole Family" section. I will be honest. I love teaching my children. As a child I had a chalkboard and
lovingly taught my little brother
forced my little brother to sit through hours and hours of lessons I wrote on the board. When he was
busy
running faster than I could catch him, I would teach my stuffed animals. I was born to teach. I love to see the light turn on in my kids minds and eyes. However, I am not a trained teacher and can admit (no matter how hard it is) that I don't know everything. This is where "Just for Parents or the Whole Family" helps.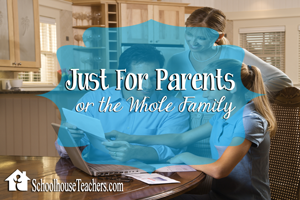 I was able to, as a parent, go in and learn a lot. Some subjects are easy like helping your child choose college. But there are other classes about teaching styles, methodology, and even those bigger names most of us recognize in the homeschool world share knowledge they have gleaned over the years. Honestly, the membership is worth it to me just for this section. The fact that our entire family receives a stellar education is just a bonus.
Let's move on to what you really want to know, is it good and did we use it?
The short answer is, YES! (to both)
The long answer (because you all know I am long winded), is YES! OK, seriously, it's not just good but excellent.
I didn't use this website as our main curriculum. I could have. Honestly, you could get the SchooHouseTeachers.com Yearly Membership for your family and be done with your curriculum shopping. 10 minute curriculum shopping? Is that even possible? Yes, with this website it is.
I used it for a bit of a different purpose. I used it to enrich our daily lessons. For example, I love art. I enjoy museums, public displays that many larger cities have, and enjoy drawing at home. However, as I mentioned above, we live in a tiny town. Getting to fine art examples is hard. And, even if I lived in a huge metropolitan area, I am still limited by the local museum. With SchoolHouseTeachers.com I was able to show my children the Sistine Chapel and discuss Michelangelo's methods and finer details of his works. Hello, SISTINE CHAPEL! They had a course on his work and we went through it. It even included a great activity of painting while on your back. I taped paper to the underside of chairs and had the kids try their hand at what he went through for that masterpiece. Their conclusion? He must have had biceps of steel and loved the feel of paint on his face. I liked that the course discussed his life details, (birth, major works, etc), gave examples of his work, and gave activities to try. We spent time learning about WHO Michelangelo was on a personal level before taking a look at his works. I think this gave us insight into why he painted and sculpted the way he did. It also lead, very naturally, into a great discussion of history. Michelangelo's work was so indicative of the period in which he lived, and the study we printed out and did really touched on that time so we could use it almost as art and history all in one.
I was able to print the study, and could have skipped anything I thought wasn't something we would do (though it wasn't overwhelming so I printed it all). I showed the pieces to our sons, watched videos on SchoolHouseTeachers.com and I was set to go only having to add in paints (or a different medium if I had wanted) and paper. This specific study only took us a day to complete and I liked that I could pick and choose different artists for our art study instead of having a semester or even a week of the same person. Oh, we could have stretched it out for a week, we chose not to do so.
My takeaways:
I have looked through all of our options for classes and am excited about what we have on the horizon. I am able to schedule things immediately or as far out in our plan as I want/need. This flexibility is huge and one of the bigger sellers of the website. If we change our mind and want to skip something, add something, or change the order, poof, done in 2 seconds.
Go slow. Please don't sign up and think within 2 minutes you will be using the full curriculum. I mean, I guess you could, theoretically. There is nothing to stop you from doing that. It is very user friendly. But, I think you would be doing yourself, your family, and the website a disservice by not diving into it a bit deeper to look around.
Speaking of looking around. They have live chat to help you in that regard. I like live chat on a website. I don't have to call when my kids are in quiet time, I don't have to wait forever for an email to be returned, I get immediate answers. That's a big deal to me on this type of site.
Check out the resources area and the portion I mentioned above for parents. You will not be sorry you did. We all need encouragement, direction, new ideas, and great information. Use them!
If that's not enough to get your mouth watering, check out this deal! Yep, 50% discount on SchoolHouseTeachers.com Yearly Membership for your family just because they are nice like that.
I missed so much in my review. But, there is a big difference between long winded and shut up already. There are discounts for membership for those in the military, members of HSLDA, etc. There are over 10,000 videos to help your students grasp new concepts or take an idea deeper. There is a planner to help you stay organized and on track. And there is help even if this is the first time you ever uttered the words, "what about homeschooling". It's so much more than I thought. I figured it would be a few lap books, maybe a poorly put together video or two, and a few thoughts from other home educators. I couldn't have been more wrong. It's thorough, fun, exciting, and very much something you should check out for your family.


*affiliate links within this review