My family was given the opportunity to review
Agenda 2: Masters of Deceit
for
FishFlix.com
. My husband and I settled in for a movie night on the sofa after the kids went to bed. Hey, what's better than date night with a movie all curled up with your sweetie.
See his end all warm and lonely down there? Yep, his blanket as well. We are having some chilly nights suddenly.
My hubby just got up to shush some little boys, so I thought I would take a minute to share what he and I thought about it and also a few words about
FishFlix.com
.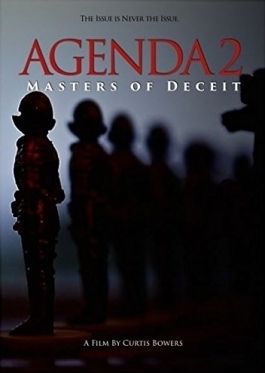 Agenda 2: Masters of Deceit
is a documentary by Curtis Bowers. It starts with him talking a bit about his time serving our nation politically and how his eyes were opened to some pretty scary trends in our country that affect not only the political scene but every aspect of our daily lives.
Education. Freedom. Environmentalism. Economy. Corruption of the Evangelical Church (that's right). The list goes on with topics this film and it's maker discuss, dive into, and break open the startling realizations of their common starting point. It shows the clear lines leading back to communism in our government from many years ago and how those small sparks have ignited a firestorm in our nation today.
Our Thoughts:
I want to start with what my husband said about the film and it's message. I will share my thoughts in a minute.
I really enjoyed it. I felt it could have been presented in a different way. But, considering what their budget probably was, I thought they did a very good job.





I never realized there was a correlation between environmentalism and communism and the dissolution of our freedoms and t

he influence of non-christian people at the direction of the U.N as pretty much a direct onslaught on the Christian community.





I was shocked to know the U.N. was so heavily controlled by Russian and China influences.





I liked the schematic showing how certain people were connected with groups and pushing their agenda but would have liked more facts and details showing that relationship.
On to my thoughts. First, I thought it was well done considering it was an independent film. We try very hard to financially support Christian films and film makers. So I was pleased with how well this one was pulled off considering it's genre.
I felt,as did my husband, that the movie leaned a bit too heavy on the "communists are causing all these issues" instead of really diving into the true issue, our running from God and His word. Communists are merely pawns in this game and the players are much, much bigger than a few world leaders could ever dream to be.
I did like that, at the end, they brought it back to hitting our knees before God, repenting of our part of His hand being removed from our nation, and then getting up, dusting ourselves off, and taking action. That's right, it had a multi-part action plan for Christians to make a difference. The best part was, they weren't hard tasks. Get out of debt, educate your kids, pray, witness, invite people to church, make sure you are in a good church that teaches the unadulterated word of God, support local banks and businesses, buy from the U.S., get involved, and so on. These are all doable things.
A few last thoughts and I will close this review and share a bit about the company that provided this good film to us.
This isn't a movie for young children, in my opinion. There is no foul language, no inappropriate scenes, or that type of issue. But, the topics are pretty heavy and could be scary for younger audiences. I would suggest teen and above for this movie.
There is NO CLOSED CAPTIONING. Most of you don't know that I have some genetic hearing loss. I can hear still, and probably will never fully lose my hearing. But, it's to the point I need a hearing aid at my next ENT visit. So, closed captioning is very important to me. This movie does not have that ability. I know they had a small budget and that technology costs extra, so I don't fault them for it. I just wanted to share in case you need CC as well. My blu-ray player, TV, etc couldn't access any CC ability on this film and the company told me it was not enabled.
Ah yes, the company that provided the movie.
FishFlix.com
is a Christian movie company that strives to provide movies that Christians can watch with their families without the junk of typical Hollywood flicks.
They have a very nice selection of movies and free shipping offers. Hello, I love free shipping.
I did have an opportunity to deal with this company when I had an issue (the closed captioning issue I mentioned above). They were fast, courteous, and I felt offered a fix above and beyond what I ever expected from a company. I think they live up to their company's detailed stated beliefs all centered around honoring God.
I highly recommend
Agenda 2: Masters of Deceit
and the company,
FishFlix.com
, that provided it to us.