History! You either love it or you hate it. In school, I was NOT a fan. However, I was blessed to receive a copy to review of
Heirloom Audio Productions' audio drama
of
The Dragon and The Raven
by G.A. Henty and all of that changed. THIS is how history should be presented.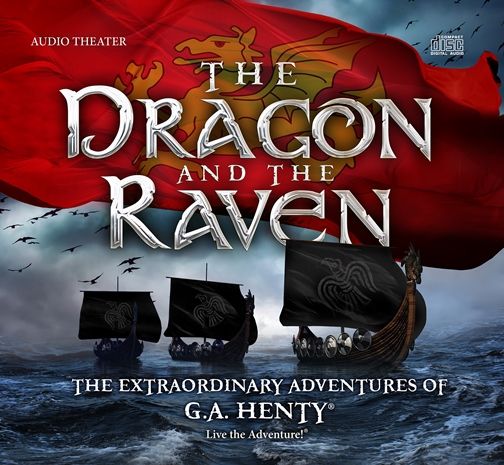 Let's start with what you get. Our family received this audio drama in a gorgeously packaged 2 CD set. I am not kidding when I talk about how well this is put together. Do you see that lovely art work on the front cover picture above? They have taken that type of care throughout this entire set. It even includes the inside cover of this tri-fold case. I could just stare at the cover and be a happy woman. But, I digress.
We were also given access to the bonus materials. These aren't your basic bonus items. They include:
Instant access to the MP3 of The Dragon and The Raven sound track. The music is wonderful with this set.
The Dragon and The Raven study guide and discussion questions to download. This downloadable and printable book's graphics make it look like a very expensive book once it's printed and it fits right along with the art work on the case and the theme of the story.
The Dragon and The Raven ebook (which is wonderful for those of us who enjoy following along with audio books).
A 50-minute documentary on MP4 with a behind-the-scenes look at the making of The Dragon and The Raven. (I am not ashamed to admit that's one of my favorite parts of a movie. I was stoked to see it on a audio drama).
So, so much more.
When I got this CD set I immediately put it into my car's CD player so my kids could listen to it as we drove to their music lessons. That's when I remembered my CD player had died previously and I couldn't wait to get home to put it in our Blu-Ray player to listen to it. I figured it would be a nice recording, so I could wait.
Once I started to listen to the CD I realized what I was missing. This is not just some guy in a sound proof booth reading a book. This is an incredibly dramatic almost onstage play on CD. I looked at the back and the voices of the characters were people I knew from movies such as The Hobbit, Star Wars, and Indiana Jones. From the very first sentence we were hooked. I knew my kids were enjoying it when we had to get up to do a few things and they moaned asking to please put off our errands to listen to this story. They didn't want to leave the adventure.
It's awesome to find a book that is so full of adventure, awesomely acted, and also has a deeper Christian message. That's rare and something I value. The estudy guide was broken down by tracks so you could either go back and listen to the exact spot you needed if you missed a question or so you could stop after each track in order to find the answers. (though I would suggest listening all the way through once for the beauty of the story) The discussion points made my kids think deeper about what was happening and why.
The story is set in the time of King Alfred before England was, well, England. While this is a fictional story, it's set in a truly historical period of time to help kids learn about a very different point in our world's history. Vikings, kings, heroes ... who will win, who will prevail, and what of the King's faith in the one true God? It will leave you in suspense and you will love how it's played out in the end.
If you want to catch just a glimpse of how well this is done (and see a few actors you might recognize from other productions which will get you very excited about this drama), Heirloom Audio Productions has set up a little clip sampling, if you will, of
The Dragon and The Raven.
Heirloom Audio Productions knows their stuff. They got this right. They got this beyond right.

Heirloom Audio Productions has a wonderful 4-pack offer that you should check out, as well.
If you would like to check out what other reviewers had to say about The Dragon and The Raven you can click the bottom review banner.