MUSIC! We absolutely love music in our home. When we got the chance to review
Music Appreciation Book 1: for the Elementary Grades
from
Zeezok Publishing LLC
, we were all so excited. The fact that our sons were starting to really get into their instruments made the timing perfect. Want an even better timing issue? My son was learning one of the songs that's on this set and in the book we chose to study first.

I don't want to just spill who we studied, I will give you hints.
- This composer came from a family who loved music maybe even more than my family does.
- He once was very hungry and played a violin in order to get his dinner.
- In his day he was compared to Handel with many saying Handel was the closest in skill to him.

Any guesses?
I won't keep you in suspense any longer. Our first study was Bach! Yes, Johann Sebastian Bach known for such pieces as his Minuet in Gmaj which just happened to be the piece my son was learning on piano at the time.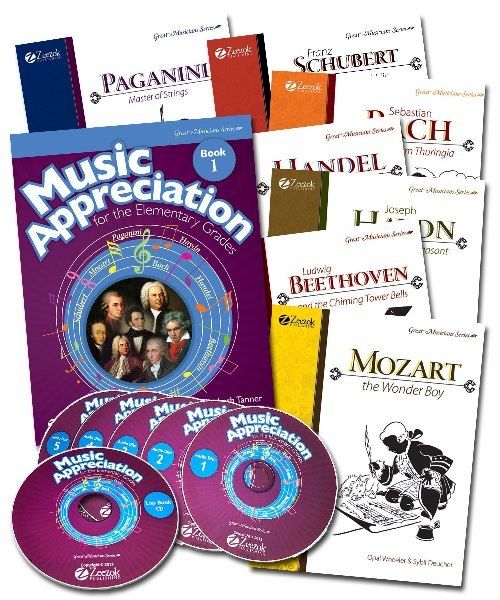 Let me start with what you get with the set we received called Music Appreciation Book 1: for the Elementary Grades.
You receive individual biographies for 7 different composers. Composers such as Mozart, Schubert, Bach, Beethoven, Paganini, and more. You receive activities for each composer. You will study geography, history, vocabulary tied to music, instrument studies, and even recipes from the period your composer lived. Did I forget to mention the CDs that go along with the music study? And last, but far from least, are lapbook downloads for each composer in this study. This is truly, truly a complete set. It's music appreciation the fun way.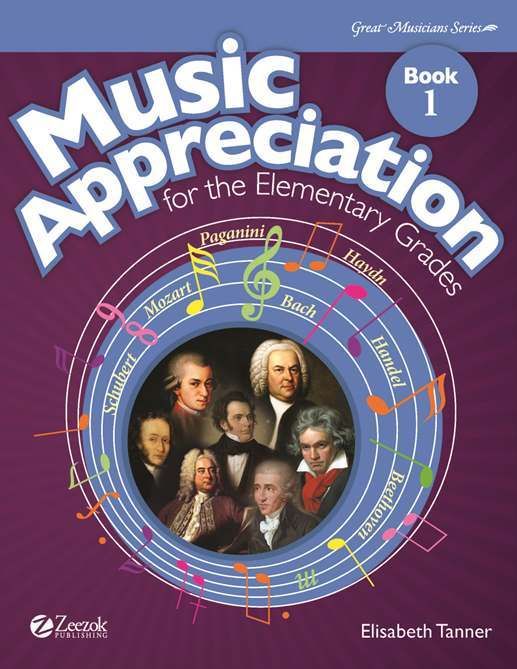 What We Thought:
I will admit to be a bit biased on this since we love music. But, I also wanted to make sure this was a quality product that would not short change my kids or bore them which would turn them off of music appreciation for a long time. I am happy to say I was not disappointed.
Each section has topics that really dive into each composer's life and music, but also uses their lives to teach important issues such as character. We learned about humor, hospitality, and more. I liked that the kids really started to appreciate the person behind the music they played and then learned bigger lessons from their lives.
For the biography we read it together. But, I took this chance to let each of my son's read aloud which they loved skipping that activity later since they normally have it as a separate topic each day. They would take turns reading and then I would read to end the chapter.
My kids (10 and 8) really got into this study and would ask me very good questions about Bach that went beyond the book's deep story. We took this chance to work on projects outside of the study. Now, I remember music appreciation, as does my husband, and it was NEVER this fun. I could have appreciated that class a lot more if they had used
Zeezok Publishing LLC's
study.
The study for Bach included science projects (yes, science) that the boys found fun and they actually learned from it. When we moved outside they found some metal on our farm that had been oxidized just like the church and, because we had studied the WHY behind it, they immediately were able to share with Grandma what had happened.
Did I mention recipes? Yeah, well, buy a bigger belt. Once we work through the entire series we will have eaten through 7 composers.
By the way, one comment my kids made was about the music itself. After my younger son got over his excitement that he already knew a piece by Bach, we started to listen to pieces he hadn't learned or didn't know. Both of my sons said at different times that they liked this music that it was famous. I told them it was. My older son said, "yeah, it's very famous, cartoons play it all the time". Ha ha. Well, at least I can count their DVD time with cartoons as educational. But I did use it as an opportunity to start to find Bach's music in our daily lives, and the boys were shocked how often they heard his pieces. I can't wait to listen to some of the other composers and do the same thing.
If you would like to check out
Zeezok
online, please check them out at:
After reading my post you might want to check out what other bloggers are saying about Bach and other composers in this study by clicking the graphic below.