My youngest son - Linus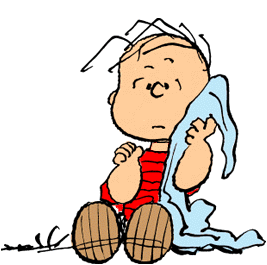 Faith-filled, quiet, anxious, brilliant - he's my Linus, right down to the hair and blue blanket. Of course his blanket was called "Mongee" for many years, but it was blue and permanently attached. We joked that he never had to worry abut a costume. Just slap a red shirt on him and he was ready to go. His hair was even very thin and sparse like Linus's is. It still is, though he finally has a bit more of it. Our youngest son is definitely our little Linus. I love his heart, his devotion to others, his sense of right and wrong, his fierceness, his passions, his standards, and his deep abiding faith in God that just seems to have always been there.
My older son - Charlie Brown
Quiet, introspective, unsure of himself, stubborn (in a good way), not at all wishy-washy like people claim - Charlie Brown gets a bum wrap, and our old son does as well. People think one thing about him, but if you really get to know Charlie Brown, see the person behind the stereotype, you see a thing of beauty. You see someone who refuses to give up on a dream (flying his kite, kicking the football). Our Charlie Brown is epitomized by "still waters run deep". He's quiet, unsure of his own potential, and feels others opinions are important, more important than they really are. But he's smart, funny, loving, kind, and not a bit wishy-washy like so many think. He tries to stick up for others, loves his pets even when they snub him, and would do anything to help a friend in need.
My two boys, Charlie and Linus, fill my heart with so much happiness. They can be found talking about the big things in life, even at their young age. They are buddies who have the occasional knock-down. They make us laugh, stretch us to the point we are sure we will break only to help us realize we needed a good push in our growth. They have taught us we don't know much, we know more than we think, and to never, ever, ever judge a book by it's cover.